EXHIBITON: MEARAS / PÅ ELLER I HAVET!
Inghild Karlsen is the main artist this summer at the Sami Center for Contemporary Art.

---
THE ARTIST & THE ARTWORK
Inghild Karlsen will fill our main exhibition hall with an extensive selection of works, some will be shown for the first time in Karasjok, in addition she will move out of the Art Center by placing a group of sculptures outdoors, these will be an artistic contribution for people to look at and wonder about this summer until they are taken down in September.
In the summer of 2018, Inghild Karlsen was on a trip in Finnmark, when she came to Karasjok and saw the Sami Center for Contemporary Art for the first time, she immediately wanted to come back to do an exhibition here, the large open space provides opportunities that few other Exhibitions Halls in the North have. We are glad that it will now happen and that we are heading towards a summer with more openness and the opportunity for people to travel and take part in art and cultural events.
Inghild Karlsen feels a strong connection to the region she comes from. She has collaborated with many of the artist communities here, including among others Hålogaland Theater, Beaivváš Sámi Našunálateáhter and Barents Spetakkel/Pikene på Broen. Several of her works are based on handicraft techniques, materials, special local conditions, landscapes and phenomena in and from the north. Something the audience will also see in the exhibition at the Sami Center for Contemporary Art, among other things we will see a set of troll crab sculptures.
Inghild Karlsen recently received Rune Brynestad's memorial scholarship for 2021. Norway's most highly regarded artist scholarship of 400,000 kr. The committee for the scholarship stated that: Karlsen has in a number of his works based on concrete cultural history, landscape and way of life in northern areas. In her dynamic and exploratory art practice, a distinctive vocabulary has emerged, as inspired by local culture and tradition, as by European art history. Through her work, Karlsen has given northern Norwegian culture an artistic language.
Inghild Karlsen (b. 1952) is one of the most important artists from Northern Norway, who is active today. She has been active as an artist for over 40 years. She lives and works in Tromsø and Oslo. Karlsen's artistic practice is very extensive, she is not possible to place easily.
She explores materials, places and new ideas all the time. She works in a number of media, including installation, textile, sculpture, photography, performance and scenography.
Her art has been shown in the Nordic countries, Asia, Latin America and the United States.
Inghild Karlsen started her further education at the former Handicraft School for Troms (1970-71) and went on to the Norwegian School of Crafts and Design, Department of Textiles (Oslo 1972-74), the Norwegian Teachers' College in Handicraft, tapestry (Oslo 1974-75), Vestlandet Art Academy (Bergen 1976-81) and The Royal Institute of Art, department of sculpture (Stockholm 1981-82).
Portrait photo: Inghild Karlsen
Photographer: Susanne Hætta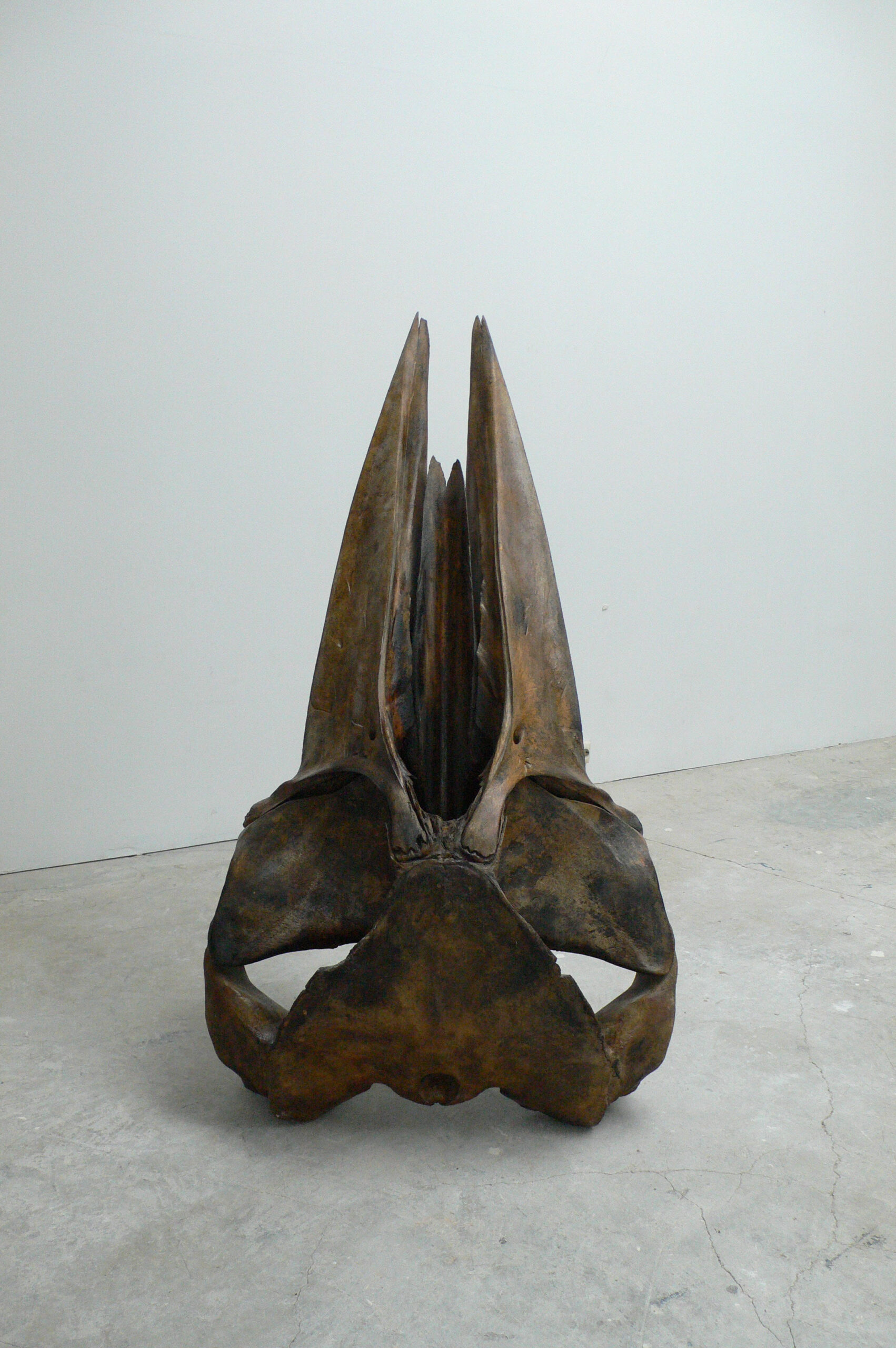 Hvalkranie
Photographer: Inghild Karlsen